Capital Factory Wheel - 14x6, 8-hole, 5-lug, 4-1/2" Bolt Pattern. Steel Wheel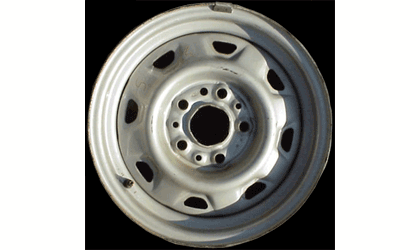 Description



Product Videos
Andy's Auto Sport TV answers the question: what are takeoff wheels?
Fits On:
90-97 Ford Aerostar
About this Manufacturer:
We like Capital Wheels because it was one of those companies that was started by a couple of guys with a passion for cars, and which eventually became a family operation passed on from one generation to the next. Capital Wheels' business is obviously wheels, but the company specializes in original equipment wheels and covers of all types - steel, aluminum, and chrome-plated, to be exact. If you are in need of replacing a bent or otherwise damaged wheel, or if you just fancy an upgrade to a nicer set of OE wheels, we feel that Capital Wheels is a great choice to give your car or truck's appearance some new life.
About this Product:
Capital wheels are offered at good prices due to the fact that some of their products are "Used- Take-Offs". What this means is that an individual had purchased a new vehicle and upgrades his/her wheels at the dealership, the original wheels, wheel covers/hubcaps and/or center caps that are being replaced are now called "Take-Offs" and are in semi-new to new quality condition.

» SITE CENTERS



» LINKS



» POWERED BY









CURRENT VEHICLE
Ford