American Safety Razor American Line Pro Single Edge Mini Scraper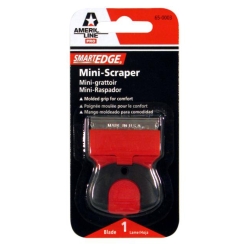 Description



Fits On:
Universal (All Vehicles)
About this Product:
Features and Benefits:

•Includes one single edge razor blade
•Patented locking body design
•Unlocks for quick blade changes
•Textured TPR grip for better control
•Blade reverses for storage

American Line's Pro Smartedge Mini-Scraper has a patented locking body design that secures the blade when in use or storage. The mini-scraper body is made from TRP resin for a textured slip resistant grip. Each mini-scraper includes one high quality single edge razor blade for usage of the product right out of the package.

» SITE CENTERS



» LINKS



» POWERED BY









CURRENT VEHICLE
Ford