Plasticolor Rubber Floormats - Harley Davidson Weatherpro Trim-To-Fit W/ Nib Backing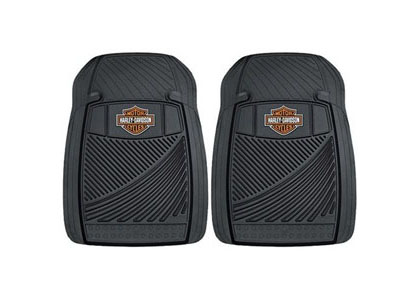 Description



Fits On:
Universal - Fits all Vehicles
About this Manufacturer:
Plasticolor is one of those companies that has always something neat to accessorize your car, truck, or even your garage. You want a shop stool? Plasticolor makes it. You want padded seat belt covers? Plasticolor makes those too. The company holds official licenses for dozens of specialty brands and makes tons of products, so if you have a fascination for Fords, a craving for Chevies, or even a longing for Looney Tunes, Plasticolor may have just what you're looking for.
About this Product:
Plasticolor has 0ver 30 years of experience in the design and manufacture of automotive floor mats. Research, engineering, professional graphic design, and cutting edge manufacturing techniques come together to make the highest quality floor mats available today.

Colors are molded in and will not fade, peel, or wash away. These mats can be easily cleaned with soap and water, and provide the ultimate protection for active lifestyles. Plasticolor's line of molded mats include the extra rugged "weather Pro" series, a line of deep draft, all-weather mats.

» SITE CENTERS



» LINKS



» POWERED BY









CURRENT VEHICLE
Ford