Michelin Primacy MXM4 Run Flat 245/55R17 102HRF BMW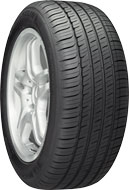 Description



Fits On:
Universal
About this Manufacturer:
The Michelin Tire Company is one of the most celebrated tire manufacturers since rubber first hit the road. As an early pioneer of the pneumatic tire Michelin is a company steeped in tire history. Their roots go back as far as the late 1800s and include some impressive innovations such as producing the first radial tire in 1946. They also have an illustrious competition background including racking up wins in all forms of motorsports from Formula One to the 24 Hours of LeMans. Although truly a global force, Michelin operates its US division out of Greenville, South Carolina. They continue to use the latest technology to create drastic innovations in the tire world to improve both safety and performance, and they have shown a deep commitment to the environment by utilizing sustainable practices whenever possible.
About this Product:
Michelin Primacy MXM4 Run Flat

Treadwear: 420
Traction: A
Temperature: A
Speed Rating: H


About the Primacy MXM4 Run Flat
Primacy MXM4


360 degrees of ultimate satisfaction for the premium car owner who wants it all: Safety, all-weather handling, great ride quality and comfort - all backed by an exceptional warranty.

Stops up to 19' Shorter in Wet Conditions than a Leading Competitor
Increased traction at low temperatures for braking and handling in wet conditions and better overall performance in the snow - all the results of the revolutionary Helio Compound™, with sunflower oil, combined with 3-D Variable Thickness Sipes Technology™ (VTS).

MICHELIN® Brand Tires Are the #1 Choice of Premium Car Makers to Optimize Vehicle Performance and Ride Quality
With revolutionary designs and advanced tread compounds, MICHELIN tires have been able to meet or exceed the demanding standards of the world's leading luxury car makers for decades - including Acura, BMW, Cadillac, Mercedes and Lexus. The new MICHELIN® Primacy™ MXM4® tire is set to continue the tradition.

Exceptional Longevity Backed by a 55,000 Mile Warranty for H/V-rated Sizes and a 45,000 Mile Warranty for W-rated Sizes
The 3-D Variable Thickness Sipes Technology™ and optimized contact patch of MaxTouch Construction™ combine to deliver many miles of driving pleasure.




» SITE CENTERS



» LINKS



» POWERED BY









CURRENT VEHICLE
Daewoo