RK Sport Grille Kit (Urethane)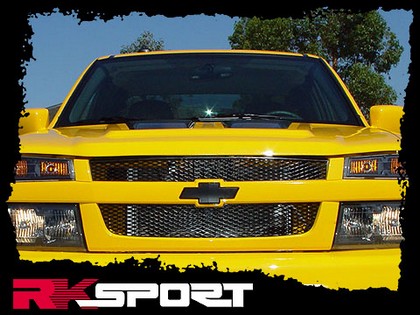 RK Sport Grille Kit (Urethane)
Description



Fits On:
04-11 Colorado
About this Manufacturer:
RK Sport prides themselves on their ability to service GM aftermarket needs with excellent products. They tolerate nothing other than the highest quality of parts available. Their body kits are made of poly-urethane.

RK Sport was founded by R.K. Smith. R.K. knows first-hand with his extensive racing background that having the best team makes a winning program in both racing and business. In 1982 R.K. was named "Southern California's SCCA Driver of the Year". Then in 1983 and 1985, R.K. won two National Championship titles in a prototype Swift. In 1990 and 1992, he won two World Challenge titles in a Corvette. Finally, in 1993 with his experiences both on and off the track, R.K. founded RK Sport, Inc.

Today, RK Sport specializes in making custom parts for most domestic vehicles.
About this Product:
This will not have extra pieces for the existing grill. Made from aluminum mesh and comes with the body kit package.
Check out this episode of Andy's Auto Sport TV where we explain what the difference is between fiberglass and poly-urethane. Most body kits are made out of one or the other, and we give you every insight you'll need in order to make an informed buying decision. Check it out!

» SITE CENTERS



» LINKS



» POWERED BY









CURRENT VEHICLE
Chevrolet