Meguiars Show Car Glaze - 64 Oz.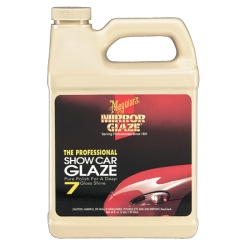 Description



Fits On:
Universal (All Vehicles)
About this Product:
Features and Benefits:

•64 oz. bottle
•For use by hand, orbital buffer or dual action polisher
•This helps to restore a dazzling, deep, wet shine
•It's safe and effective on all paint finishes
•Made for professionals

Legendary on the show car circuit. This is for those of you who love a hand-rubbed finish, this superb glaze is guaranteed to give you that deep, wet shine prized among car collectors. This polish will outshine all other hand-applied polishes, glazes, waxes or sealants. It won't dry white, and it's safe and effective on all paint finishes. Used as part of your 5-Step Surface Care Cycle, Show Car Glaze is just one of many secrets of the pros that add up to a superlative appearance for your treasured automobile.

» SITE CENTERS



» LINKS



» POWERED BY









CURRENT VEHICLE
Chevrolet