E-Z Red Extendable Flex Head Ratchet Set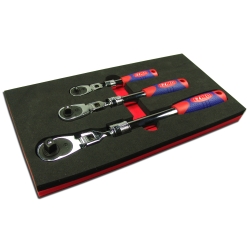 Description



Fits On:
Universal (All Vehicles)
About this Product:
Features and Benefits:

•Each ratchet has an 180 degree flexible angle
•1/4" , 3/8" and 1/2" ratchets in one package
•Chrome Vanadium steel shaft, durable micro comfort grip
•Made with a extendable locking shaft
•EVA foam packaging for tool box

72 tooth ratcheting head angles into tight work spaces. Unique, extendable locking shaft. Quick release drive head. Exceeds ANSI torque requirements. Lifetime Warranty on ratchet head operating assembly. 1/4" Extendable Flex-Head Ratchet, 3/8" Extendable Flex-Head Ratchet, EZRMR382F 1/2" Extendable Flex-Head Ratchet EZRMR12ZF.

» SITE CENTERS



» LINKS



» POWERED BY









CURRENT VEHICLE
Chevrolet