ADDCO Sway Bar - Rear 3/4" Diameter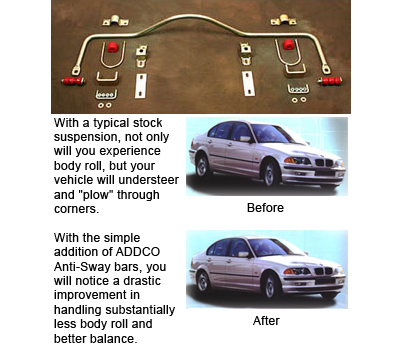 Description



Product Videos
This episode of Andy's Auto Sport TV is all about sway bars!
Fits On:
72-79 Chevy LUV Pickup
About this Manufacturer:
Addco is a QS-9000 certified manufacturer that specializes in suspension products. They are the first and only manufacturer to develop cold forming of prehardened bar stock to prevent heat treat deformation and to retain material specifications in extreme use. They also have a complete line-up of OEM product parts, which is a testament to the product quality they uphold in general with their manufacturing processes.
About this Product:
With the addition of a set of ADDCO anti-sway bars, body roll and understeer will be greatly reduced resulting in a safer, more balanced suspension.

» SITE CENTERS



» LINKS



» POWERED BY









CURRENT VEHICLE
Chevrolet