AirCat NitroCat Mini 1/2" Drive Impact Wrench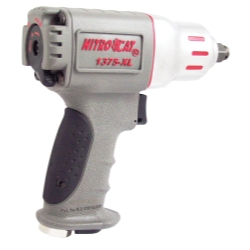 Description



Fits On:
Universal (All Vehicles)
About this Manufacturer:
AIRCAT has been finding ways to improve upon their pneumatic tools since 1998. This Spokane, Washington-based company has developed a patented exhaust system that reduces backpressure; effectively improving power and torque while reducing noise. Aircat tools use high-quality steel in their composition which lengthens their lifespan. Their products are all assembled in the USA, backed with great customer service, and priced fairly.
About this Product:
Features and Benefits:

•700 (ft-lb) loosening torque; 200-500 (ft-lb) working torque
•Twin Clutch Mechanism - most powerful " mini" 1/2" impact in the market
•Lightweight only 2.7lbs.
•Patented ergonomically engineered handle design to relieve stress and fatigue on the operator's hands, wrists and arms
•Patented Quiet Technology only 85 dBa

Most powerful mini 1/2" drive in the market today. Power+ with less noise and weighs only 2.7 lbs. Gray composite body with patented tuned exhaust in the patented handle.

» SITE CENTERS



» LINKS



» POWERED BY









CURRENT VEHICLE
Chevrolet