Ram Clutches Premium Powergrip HD Clutch Kit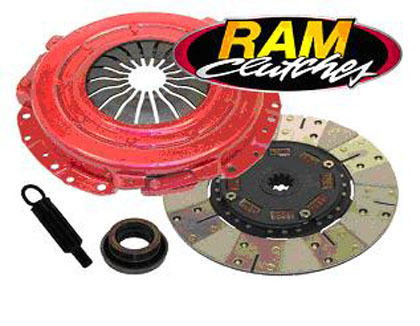 Description



Fits On:
67-70 Camaro 8 CYL 350,396 C.I.
About this Manufacturer:
Any company that manufactures clutches specifically for truck pulling is pretty hardcore in our book, and Ram Clutches does just that! Truck pulling is no joke, as these competition trucks have to pull an increasingly heavy weight-transferring sled weighing many thousands of pounds. We'd venture to guess that it just doesn't get any tougher than that on a clutch, so as you can imagine Ram Clutches probably considers it's a cakewalk to build its other lines of clutches, such as its famous drag-race caliber clutches for muscle cars. If you're looking for a performance clutch, you can feel very comfortable ordering one made by Ram.
About this Product:
POWERGRIP HD is a true "strip/street" competition clutch system that can handle the rigors of weekend racing and spirited street driving. This system has the same components as standard POWERGRIP above with the exception that the disc friction surfaces are both sintered iron. Sintered iron provides a degree of slippage on vehicle launch to prevent the violent and uncontrollable engagement characteristics of paddle type metallic discs. This firm consistent engagement is easy to control. Some chatter is likely on engagement with rear gearing less than 3.73 in street applications. Each set includes the pressure plate, clutch disc, release bearing, and alignment tool unless otherwise noted. Use Powergrip HD for power levels to 650 horsepower, or lower powered vehicles that see frequent track duty.

» SITE CENTERS



» LINKS



» POWERED BY









CURRENT VEHICLE
Chevrolet