Waekon Industries Pad Apply Pressure Test Kit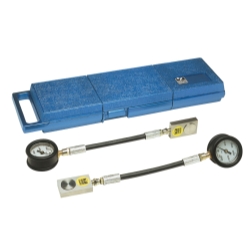 Description



Fits On:
Universal (All Vehicles)
About this Product:
Features and Benefits:

•Eliminates costly comebacks!
•Quickly Pinpoint: unusual pad wear, brake pull, Imploded hoses, Sticking/frozen calipers and slides
•Simply insert the gauge load cells in place of the brake pad then depress and release the brake pedal
•To quickly measure brake caliper apply pressure and release

Two 0-5,000 PSI gauges, instruction manual, storage case and limited lifetime warranty. Use with BEQ0397, BEQ02, and 20480 for complete ABS brake system diagnostics.

» SITE CENTERS



» LINKS



» POWERED BY









CURRENT VEHICLE
Chevrolet