Waekon Industries Cooling System Pressure Test Kit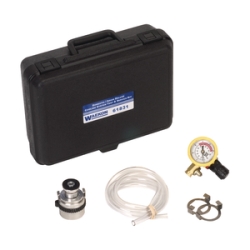 Description



Fits On:
Universal (All Vehicles)
About this Product:
Features and Benefits:

•This system used shop air to maintain constant pressure without the engine running
•When used with UV dyes it allows extremely slow leaks enough time to become evident without continuous hand pumping
•Professional duty positive seal twist lock adapter fits all " A" and small neck radiators
•Eliminates the problems with unreliable rubber plugs or bladders, which saves set up time and provides greater test accuracy
•Made in the U.S.A.

Kit includes: pressure test regulator, twist lock " A" size and small neck radiator, Master Adapter User Guide and Adapter look-up table all in a blow molded case. Backed by Waekon's Limited Lifetime Warranty.

» SITE CENTERS



» LINKS



» POWERED BY









CURRENT VEHICLE
Chevrolet