SOLAR Truck PAC 3200 Peak Amp, 12/24 Volt Jump Starter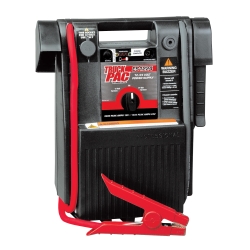 Description



Fits On:
Universal (All Vehicles)
About this Product:
Features and Benefits:

The versatility of 12 and 24 Volt operation from a single unit, quickly switches operating voltage with the turn of a knob
•Dual high performance ES Series are specifically designed for vehicle jump starting and deliver 3000 Peak Amps in 12V mode, 800 cranking amps in 12V and 1500 Peak Amps in 24V mode
•Extra-long 60" #2 gauge cables provide exceptional power delivery and allow the unit to be ideally positioned during jump starting
•Industrial-Grade Hot Jaw clamps penetrate corrosion on battery terminals and provide optimal power transfer
•Advanced Warning System - AWS provides added safety by alerting the operator whenever specific unsafe jump starting conditions existThe ultimate in versatility, the SOLES1224 switches from 12 Volt to 24 Volt mode with a simple turn of a switch. Perfect for fleet, agricultural and industrial settings where versatile jump starting is needed. Features dual high performance ES Series batteries to deliver high output current, extended cranking power, numerous jumps per charge and a long service life. ; Extra-long 60" #2 gauge cables, coupled with Industrial-grade Hot Jaw clamps provide exceptional power delivery and strong battery connections. Other features include integrated voltage selection switch, LED battery status indicator, automatic recharging and DC outlet to power a variety of 12 volt accessories. Comes with a 1 year limited warranty.

» SITE CENTERS



» LINKS



» POWERED BY









CURRENT VEHICLE
Chevrolet