Quayside Publishing Book How To Build A Killer Street Machine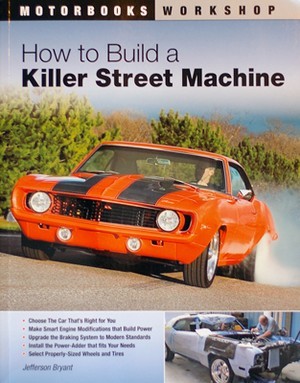 Description



Fits On:
All Muscle Cars (Universal)
About this Product:
Author: Jefferson Bryant
Format: Paperback, 192 Pages

How to Build a Killer Street Machine gives you the knowledge necessary to build the ultimate multipurpose muscle car. There's much more to building a competent street machine than simply bolting on a bunch of cool-looking parts. You must carefully consider each component's function and how it will impact the other choices you have made. Author Jefferson Bryant provides the information necessary to help you modify your car for improved performance on the street, drag strip, and even a road course. Major topics covered will include engine, transmission and drivetrain, suspension, brakes, and wheels and tires.

Quayside Publishing books show customers how to use the parts and accessories, instilling the confidence to tackle projects for maintenance, repair, customization, or performance. Beyond repair manuals, these books are tailored to the enthusiast who cares for their vehicles. The books are detailed, full of color photographs and filled with DIY project ideas.

About the Author:
Jefferson Bryant is an avid gearhead that began his career in the car audio industry. It wasn't long, though, before his passion for muscle cars and hot rods inspired him to pick up a wrench and a pen. Jefferson has built many street machines, his first being a 1979 Buick Regal, and most recently, a 1971 Buick GS convertible, which is featured in this book. As an automotive journalist, Jefferson's work appears regularly in MuscleCar Enthusiast, Car Craft, Hot Rod, Mustang Enthusiast, and many other enthusiast magazines. Bryant lives in Stillwater, Oklahoma.

» SITE CENTERS



» LINKS



» POWERED BY









CURRENT VEHICLE
Chevrolet