Quayside Publishing Book How To Keep Your Collector Car Alive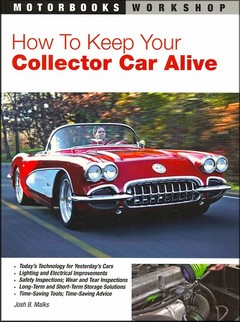 Description



Fits On:
All Muscle Cars (Universal)
About this Product:
Author: Josh B. Malks
Format: Paperback, 160 Pages
Publisher: Motorbooks; 1st edition (August 25, 2008)

When you own a collector car, you want to spend a little time in the garage and a lot of time out on the road enjoying your ride. How to Keep Your Collector Car Alive will help you to do just that. Author and car collector Josh B. Malks offers practical instructions, handy tips, and down-to-earth solutions to the day-to-day challenges of owning a classic car in the modern car world. Whether it's choosing a motor oil, converting to modern tires, safety in your garage, or maintaining older electrical systems, How to Keep Your Collector Car Alive has the answers to your questions. With color photos and useful diagrams throughout, as well as information on the latest products and maintenance techniques, this handy reference is an essential tool for all collector car owners.

Quayside Publishing books show customers how to use the parts and accessories, instilling the confidence to tackle projects for maintenance, repair, customization, or performance. Beyond repair manuals, these books are tailored to the enthusiast who cares for their vehicles. The books are detailed, full of color photographs and filled with DIY project ideas.

» SITE CENTERS



» LINKS



» POWERED BY









CURRENT VEHICLE
Chevrolet