Quayside Publishing Handbook Calvin Wan's Drifting Performance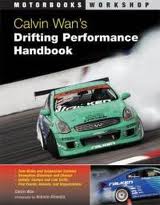 Description



Fits On:
All Muscle Cars (Universal)
About this Product:
Author: Calvin Wan
Photographer: Antonio Alvendia
Format: Paperback, 192 Pages

Drifting started as a niche motorsport among Japanese-American Californians, but has quickly evolved into a full-fledged competitive motorsport involving everyone from kids in the Midwest to a 55-year-old World Rally Championship Driver.

This is the first how-to book to focus on both how to properly prepare a car to compete in drifting events, and how to drive it effectively in those events. Written by one of the original American drifters, it expertly covers car preparation, driving techniques, competition rules, and much more.

Drawing on an extensive storehouse of knowledge and using full-color photography, diagrams, and charts to support his text, Calvin Wan explains the theories behind every aspect of the sport. For those who want to do it, those who like to watch, and those who simply seek to understand, this is the quintessential guide to drifting.

Quayside Publishing books show customers how to use the parts and accessories, instilling the confidence to tackle projects for maintenance, repair, customization, or performance. Beyond repair manuals, these books are tailored to the enthusiast who cares for their vehicles. The books are detailed, full of color photographs and filled with DIY project ideas.

About the Author:
27-year-old Calvin Wan has been driving professionally for twelve years. Although a professional drifter since 2003, he started his motorsports career as a roadracer. Calvin lives in San Francisco, CA.

» SITE CENTERS



» LINKS



» POWERED BY









CURRENT VEHICLE
Chevrolet