Quayside Publishing Book Engineer To Win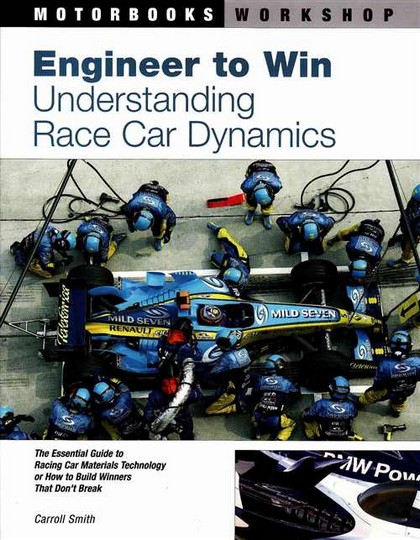 Description



Fits On:
All Muscle Cars (Universal)
About this Product:
Author: Carroll Smith
Format: Paperback, 280 Pages

Current state of the art in racing technology by a foremost expert in the field. Covers all forms of racing cars and includes a thorough analysis of metallurgy, metal fatigue and general materials technology. Details specific components and specific activities such as heat treatments, stress relieving, etc. Plus aerodynamics, ground effects, brakes, tools, and more. ...excellent information. Popular Cars magazine.

Quayside Publishing books show customers how to use the parts and accessories, instilling the confidence to tackle projects for maintenance, repair, customization, or performance. Beyond repair manuals, these books are tailored to the enthusiast who cares for their vehicles. The books are detailed, full of color photographs and filled with DIY project ideas.

About the Author:
Carroll Smith has been racing - as a driver, an engineer and a team manager - since 1955. His cars have won races and championships in North America, Europe, Australia, New Zealand, Japan and Mexico. They have everything from LeMans to SCCA Regionals. His list of championships includes the World's Manufacturer's Championships, the Formula 5000 Championship, the Formula Atlantic Championship, the Tasman Championship, the Australian Touring Cat Championship, the Mexican Formula Two Championship and most of the Off-Road Championships. The drivers he has worked with include Adamowicz, Amon, Andretti, Bond, Cobb, Foyt, Gurney, Hulme, Ickx, Matich, McLaren, Millen (S.), Moffat, Ongais, Posey, Rahal, Redman, Ruby, Smith (C.), Revson and Vasser.

» SITE CENTERS



» LINKS



» POWERED BY









CURRENT VEHICLE
Chevrolet