Meguiars Gold Class Carnuba Plus Paste Wax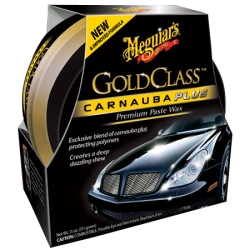 Description



Fits On:
Universal (All Vehicles)
About this Product:
Features and Benefits:

•Regardless of what paint you have, this wax will dramatically darken the color, bringing out the full richness of the paint
•Creates clear, sharp reflections unlike anything you've ever experienced
•Glides on and off so easily that you will want to wax more often
•For best results, apply with an Even-Coat Applicator and remove the residue with a Supreme Shine Microfiber or Ultra Plush Super Terry

The Meguiar family has been making quality surface care products since 1901, and our elite Gold Class line consists only of cutting-edge products that deliver exceptional results. When we first introduced Gold Class Car Wax, we said it was the most reflective car wax in Meguiar's long history. Now, after demanding car lovers have tried it on a wide array of cars in a wide array of conditions, Gold Class has truly " wowed" them and their friends. It has set a new standard for exceptional quality, and as part of our 100th anniversary celebration, we have created a new plastic, easy-open, easy-close container for our Gold Class Paste Wax.

» SITE CENTERS



» LINKS



» POWERED BY









CURRENT VEHICLE
Chevrolet