303 Products High Tech Fabric Guard 32oz Trigger Sprayer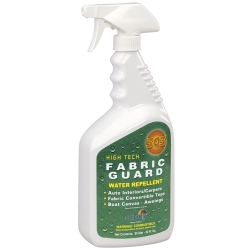 Description



Fits On:
Universal (All Vehicles)
About this Manufacturer:
303 Products was formed in 1980 in response to the need for a chemical protectant for rubber and plastics against UV and ozone deterioration. As of today, 303 is the world's first UV-screening equipment.
About this Product:
Features and Benefits:

•Commercial grade
•Creates and maintains water repellent
•On outdoor fabrics the best choice to stop leaks
•Protects textiles against soiling, water-based and oil-based stains
•For all indoor and outdoor fabrics, carpet and upholstery

The 303 Hi Tech Fabric Guard; is recommended by Sunbrella;. For all indoor and outdoor fabrics:carpeting, upholstery, marine canvas, fabric convertible tops, tents, breathable rainware, hiking boots, fine garments including wool, silk and suede.

» SITE CENTERS



» LINKS



» POWERED BY









CURRENT VEHICLE
Chevrolet