303 Products Aerospace Protectant 32 Oz. Trigger Sprayer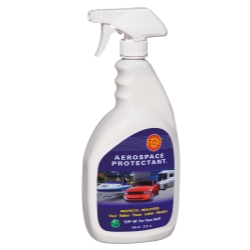 Description



Fits On:
Universal (All Vehicles)
About this Manufacturer:
303 Products was formed in 1980 in response to the need for a chemical protectant for rubber and plastics against UV and ozone deterioration. As of today, 303 is the world's first UV-screening equipment.
About this Product:
Features and Benefits:

•100% prevention of UV caused slow-fade
•Powerful UV sun-screening surface treatment
•Protects vinyl, clear vinyl, rubber, fiberglass, plastics, finished leather
•Helps to minimize mildew problems by keeping surfaces clean and dry

Engineered for aerospace and aviation applications, 303's flagship product is the world's most powerful UV sun-screening surface treatment. Retails in automotive, marine, RV, outdoors/recreation. Treated surfaces repel dirt, dust, grease and both water-based and oil-based stains. Surfaces stay cleaner longer and clean up easier.

» SITE CENTERS



» LINKS



» POWERED BY









CURRENT VEHICLE
Chevrolet