Champion Air Lock Tire Sealant - 5 Gallons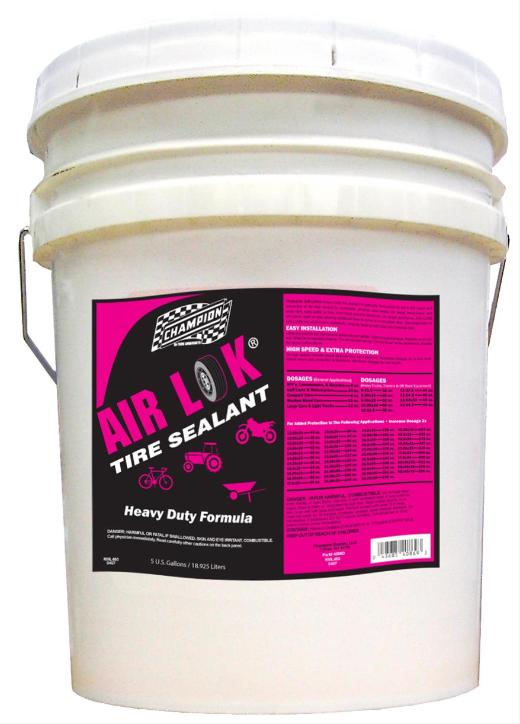 part# 4086D
Price: $172.99 / Each


Additional Info:
Description



Fits On:
All Vehicles (Universal)
About this Manufacturer:
Champion Lubricants is a division of well-known auto-manufacturer, Champion Brands. Based out of Kansas City, Missouri, Champion Brands was founded in 1956 and has since grown into a major player in the auto-parts world. With a 450,000 sq. ft. plant that allows them to store over one million gallons of bulk storage, Champion always has the right products in stock. Champion's products are high-quality because of their dedication and focus. They follow their motto: Passion, Dedication, Knowledge, and a Can-do attitude.
About this Product:
• All aluminum tanks, cores, brackets and welds, absolutely no epoxy
• Higher density core: cooling rows are spaced 3/8" apart: giving you 25% more rows than any others in our price range and 35% more rows than OEM copper
• Aluminum dissipates heat more efficiently than copper or brass
• 14-16 cooling fins per inch giving you approximately 1,500 more cooling fins than other aluminum radiators and approximately 3,000 more than OEM copper radiators
• Lighter weight
• Outperforms other 2 row aluminum as well as 3 and 4 row copper radiators
• High performance appearance.
• Billet Fill Neck
• Aircraft Grade Aluminum 2MM Thick Fittings and Tanks
• 100% TIG Welded
• High Performance 16lb Cap Included
• Brazed Core Technology
• OEM Style Brass Petcock Located on Back of Tank

Some of our parts are also available in our Economy Series 2-Row versions or our Monster Series 4-Row versions with polished tanks for that show car appearance.

Trans Cooler: 8 1/4 Spaced
Core Dem: 17 1/8 x 22 5/8
Overall: 21 1/2 x 27 1/8
Hose Locations: In-Pass / Out-Driver
Hose Fittings: In - 1 3/4, Out - 1 3/4
Trans/Heater: Yes
Mounting Type: Saddle Mount

» SITE CENTERS



» LINKS



» POWERED BY









CURRENT VEHICLE
Chevrolet