Russell Brake Lines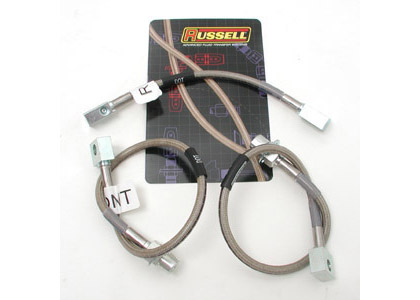 Description



Product Videos
Check out this Andy's Auto Sport TV video we made that explains why stainless steel brake lines can be a valuable item to get for your vehicle.
Fits On:
63-82 Corvette Base V8 5.0, 5.4, 5.7, 7.0, 7.4 Gas
About this Manufacturer:
Russell Performance has always been synonymous with racing. Founder Dave Russell was a loan officer/racer, which may sound like a strange dichotomy, but was a winning combination for an automotive enthusiast who wished to start his own automotive performance business. This conglomeration of business sense, market knowledge, and desire to win carried Dave Russell through the tough times of finding proper distribution for his fledgling product line. Russell Performance eventually hit it big, and in 2001 Edelbrock acquired the brand, making Russell even more of a powerhouse in the automotive aftermarket and bringing it into a new era of racing performance.
About this Product:
Street Legal Brake Line Assembly
4 Lines Per Kit; Front Or Rear
Pre-Assembled
Meets DOT Guidelines And Requirements
Legal In All 50 States
Stainless Steel Braided Hose
Zinc Plated Fittings

» SITE CENTERS



» LINKS



» POWERED BY









CURRENT VEHICLE
Chevrolet