Cobra Power Inverter - CPI 200 CH - 200 Watt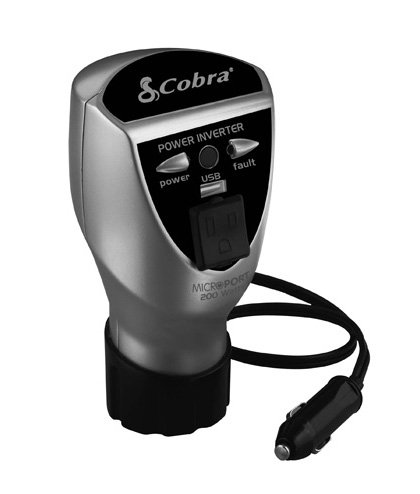 Description



Fits On:
Universal
About this Manufacturer:
Whether you need a set of two-way radios to keep in touch from across the track, or a radar, laser, or safety camera detector to stay out of trouble off the track, Cobra is well-known for being a leader in communications technology. With an ever-expanding line of products being introduced to serve the masses, Cobra has stayed on top of its game with breakthroughs such as the first touchscreen radar detector, and two-way radios with built-in digital voice recorders, which will help ensure that you'll never miss another important message. The company has also introduced a line of GPS devices, Bluetooth accessories, and even manufactures power inverters, so if you're into communications electronics Cobra offers lots of great options.
About this Product:
This inverter provides household power on the go! Power up office equipment and appliances under 150 watts. This unit is deal for video games, an IPod®, a Blackberry®, mobile phones, laptops and many more USB devices. Its compact size and cup holder design make it ideal for travelers.

» SITE CENTERS



» LINKS



» POWERED BY









CURRENT VEHICLE
Buick