T And E Tools 2000 Ft./lb. Torque Multiplier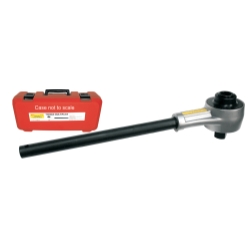 Description



Fits On:
Universal (All Vehicles)
About this Product:
Features and Benefits:

•Can be used with 3/4" Drive Wrenches x 1" Drive output
•Ratio 3 to 1 up to 2000 ibs.
•Replacement gears available
•Provide necessary power to tighten threaded bolts to exact torque requirements far beyond the range of your torque wrench
•Supplied with 18" reaction bar (brace)

Turn your 3/4" torque wrench into a 1" torque wrench. Can be used with 3/4" drive wrenches to increase torque and leverage. They also supply extra force for loosening extremely tight bolts. Comes in blow mold case. Disclaimer: not for use on a impact wrench.

» SITE CENTERS



» LINKS



» POWERED BY









CURRENT VEHICLE
BMW