ITW Devilbiss Tekna® Copper HE Uncupped Gravity Spray Gun (1.3mm, 1.4mm, 7E7 Air Cap)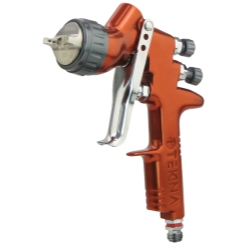 Description



Fits On:
Universal (All Vehicles)
About this Product:
Features and Benefits:

•Precision, versatility, superior performance and productivity for elite refinish painters
•Includes: 1.3, 1.4 tip and needle, 7E7 high efficiency air cap, DeKups Adapter and digital gauge with air adjusting valve
•Provides slicker clears, superior metallic control, better blends
•Even material distribution for fewer coats, increased productivity
•High transfer efficiency saves materials, saves money. Waterborne compatible

Optimal atomization of all coatings including base and clears; solvent and waterborne. Transfer efficiency equal to or ;better than HVLP. Includes: ;Copper anodized ;Tekna HE Gravity uncupped gun, 1.3,1.4 tip and needles, 7E7 air cap, Digital ;gauge with air adjusting valve, ;gun wrench, color ID rings and DPC-43 DeKups adapter.

» SITE CENTERS



» LINKS



» POWERED BY









CURRENT VEHICLE
BMW