Lane's Water Based Air Freshner - Cinnamon Scent (32oz)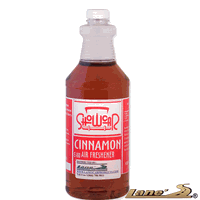 Description



Fits On:
Not Applicable
About this Manufacturer:
Focusing on detailing products for car nuts, dealerships and professional detailers, Lane's has been striving to improve their product line since 2001. This line was designed to manifest a creator's ideal image of what car care products should be. The direct offshoot of a detailing company, Lane's Professional Car Products brings experience to their business and aims to serve the ambition of those who love a car's exterior waxed and polished to perfection.
About this Product:
• Pleasant Cinnamon Smell
• Water Based Scent
• Trigger Sprayer Included With 16oz And 32oz Sizes

Cinnamon scent is a spicy fragrance for your automobile's interior. Cinnamon scent will provide a fresh cinnamon smell upon application. If you like the spicy smell of cinnamon than cinnamon fragrance is for you.

Directions: Spray Cinnamon Car Air Freshener full strength on carpets, in vents, under dash and seats.

» SITE CENTERS



» LINKS



» POWERED BY









CURRENT VEHICLE
Audi