Bushnell Outdoor 5-Day Wireless Forecaster Weather FX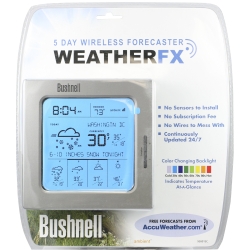 Description



Fits On:
Universal (All Vehicles)
About this Product:
Features and Benefits:

•5-day AccuWeather forecasts
•Color-changing backlight
•Sever weather alerts
•Choose from 150+ locations
•Forecasts updated wirelessly every 15 minutes

No sensors. No installation. No need for a subscription. Our WeatherFX weather forecasters provide precise weather data without the ongoing commitment, upkeep and obtrusive setup of other systems. Available with 5 and 7-day capabilities, they deliver reliable, real-time forecasts 24/7 from the world's weather authority - Accuweather. This pinpoint information is available for over 150 cities. Once you pick your city, the forecast is automatically updated every 15 minutes via pager technology. And the network-synchronized clock never needs resetting.

» SITE CENTERS



» LINKS



» POWERED BY









CURRENT VEHICLE
Audi