Recon LED Daytime Running Lights W White LEDs & Rectangular Shaped Housing Aka "AUDI Style" - CLEAR LENS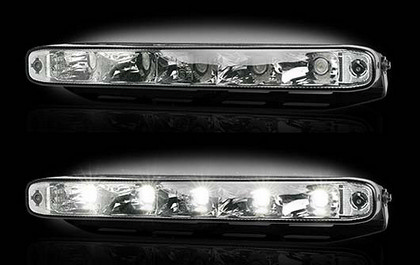 part# 264151CL
Price: $139.95 / Each


Additional Info: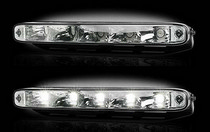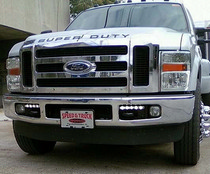 Description



Fits On:
All Vehicles (Universal)
About this Manufacturer:
Recon has been manufacturing aftermarket products for a few years now, and has become well-known for its high quality parts and accessories. People just love Recon's LED lighting products, and the company's heavy-duty winches have become all the rage in off-road circles due to their strength and flexible synthetic lines. Although Recon has traditionally manufactured items for trucks, it has begun offering lighting products for cars such as the Ford Mustang, and will no doubt continue to expand its line to include other popular vehicles as well. We think that everyone can have a nice ride with a little Recon!
About this Product:
LED Daytime Running Lights with five 3-Watt White LEDs in a Rectangular Shaped Housing aka "AUDI / Mercedes Style" - SMOKED LENS

Each kit comes complete with two Daytime Running Lights (DRLs) and each rectangular DRL has five 3-Watt LEDs making a total of 15 Watts per rectangular Daytime Running Light. These are the whitest & brightest LED DRLs available on the market today!

Length x Width x Depth dimensions are 8.5" x 1.0" x 2.0"

ALL RECON Daytime Running Lights ARE SOLD AS A PAIR & come with hardware for a simple installation...GET LIT w RECON Today!!

» SITE CENTERS



» LINKS



» POWERED BY









CURRENT VEHICLE
Audi