Nankang CX-668 155/80-12/B 77T BSW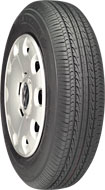 Description



Fits On:
Universal
About this Manufacturer:
Nankang has been making tires for over 50 years. With a history that includes manufacturing tires for heavy trucks and air craft they know all about building tough and durable tires. They use state of the art manufacturing processes including a technique called jointless spiral winding which improves uniformity and overall tire performance at high speeds. With great innovations such as this and an affordable pricing point Nankang has filled an important gap in the tire industry, providing lots of bang for the buck. Originally based out of Taiwan, the company has seen large scale global success and now has distribution centers all over the world including a heavy presence in North America.
About this Product:
Nankang CX-668

Treadwear: 400
Traction: A
Temperature: B
Speed Rating: T


About the CX-668
- Four straight groove designed patterns enhance the hydroplaning efficiency and the maneuverability on wet road condition.

- Dual double grooves on the tire shoulder divert and balanced the force caused on the tire shoulder when driving thus preventing uneven wears.

- Thinner sipes on the shoulder reduce efficiently the noise generation.

- Small block pattern design helps to provide better comfort.

- Pitch pattern designed by computer-simulated calculation reduces the noise generation.




» SITE CENTERS



» LINKS



» POWERED BY









CURRENT VEHICLE
Audi