Kumho Ecsta AST 205/50R-16 87H BSW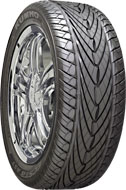 Description



Fits On:
Universal
About this Manufacturer:
With a massive manufacturing facility in Macon, Georgia, Kumho has become one of the best recognized names for good value performance tires in North America. With a history that dates back to 1960 Kumho has always pushed the boundaries of tire design and technology. From using eco-friendly materials in the production process to developing and patenting performance optimizing ESCOT technology, they are always one step ahead of the pack. As a company that has a true commitment to performance they are not afraid to show what they have to offer in the motorsports arena as well. They are especially active in grassroots level racing including SCCA and the Porsche Club of America (PCA), but they have also competed on the world stage including the challenging Paris Dakar Rally. With over 50 years of experience in the tire industry Kumho looks forward to a future where they continue to push the industry to new heights.
About this Product:
Kumho Ecsta AST

Treadwear: 400
Traction: A
Temperature: A
Speed Rating: H


About the Ecsta AST
Ecsta AST


The ECSTA AST combines exotic looks, high technology and everyday use durability in a low profile package. Built especially for sports cars and "Tuned" sedans, the ECSTA AST is the perfect choice when the desire for larger rims meets a slim budget. Designed to provide all season traction, long mileage and good looks, the ECSTA AST also delivers high performance grip and handling.

Special Features:

- Advanced belt package design is constructed using high tensile steel belt & jointless nylon cap ply to reinforce the tread area assuring high speed stability.

- An ultra hard filler material is used to maximize lateral grip and high speed stability.

- Outstanding all-season compound is designed to improve wear resistance and ride comfort.

- A specially designed, high strength bead wire increases the tire's load capacity and minimizes the vibration caused by road surfaces.

- Rim Protector in the lower sidewall safeguards wheel against scratches and abrasions.




» SITE CENTERS



» LINKS



» POWERED BY









CURRENT VEHICLE
Audi