BF Goodrich G-Force Super Sport A/S 215/55R-16XL 97H BSW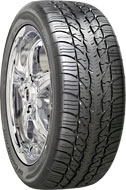 Description



Fits On:
Universal
About this Manufacturer:
BF Goodrich is the oldest and most prestigious American tire manufacturer in existence. With over 115 years in the industry they have a tremendous legacy of performance, innovation, quality and reliability in the automotive industry. They have been involved in some of the most impressive accomplishments of the 20th century including being on the first car ever to cross the United States and being part of Charles Lindberg's record setting Spirit of St. Louis aircraft. In addition to their illustrious past BF Goodrich continues to make headlines and prove their merit with numerous recent motorsport victories including 20 consecutive Baja 1000 wins, 5 Paris Dakar wins, and 17 X Games Super Rally medals. They also hold the distinction of making the first street tire to achieve 1g of lateral acceleration. Based in Greenville, South Carolina they have an impressive distribution facility and are capable of quickly and effectively serving their customer base all over the globe. They are truly unmatched in the world of automotive tires.
About this Product:
BF Goodrich g-Force Super Sport A/S

Treadwear: 460
Traction: A
Temperature: A
Speed Rating: H


About the g-Force Super Sport A/S
Watch the Super Sport A/S Video

Take the Virtual Tour

g-Force Super Sport A/S


What it is: The g-Force Super Sport A/S offers year round, balanced performance for drivers who demand genuine all-season traction capability, and sport handling control without compromise, by delivering an outstanding blend of wet and dry traction, genuine snow mobility, a smooth quiet ride, excellent wear life potential, with modern, cutting edge tread design and sidewall styling. Who's it for: Drivers who demand genuine all-season traction capability with no-compromise wet and dry sport handling control.

- Enhanced vehicle appearance, combined with low road noise generation, excellent wear life potential with UTQG Treadwear = 400, and all season M+S capability.

- Balanced, year round, genuine all-season traction capability with an outstanding blend of wet and dry traction, genuine light snow mobility and sport handling control in all weather conditions with a UTQG wet traction 'AA' grade. It's like having three tires in one.

- Precise placement of a continuous, single strand, spiral wrapped, aramid fiber reinforcement directly under the tread provides excellent strength, durability, a consistent footprint shape with maximized tread contact area under high-speed conditions - while providing a W-speed rating for speeds up to 168 mph with increased resistance to flat-spotting.

- Predictable grip character in all weather conditions that's forgiving and confidence inspiring at the grip limit due to improved progressivity and predictability at the limit of adhesion.

- A profiled sub-tread layer stabilizes the shoulder tread blocks for no compromise, best in-class dry handling performance with improved regular wear profile potential.

- Generates tremendous cornering force and helps provide crisp, sharp steering response and sport handling control by resisting lateral deflection.

- The tread crown area is strengthened longitudinally and laterally to reduce tread distorting under acceleration, braking and cornering force loads which improves wear life potential and durability.

- Improved wheel damage protection.

- Enhanced water evacuation at speed to reduce hydroplaning tendency which provides confident wet traction even in deep water situations.

- Superb steering response, and excellent on-center road feel which aids exceptional handling control and straight line stability even at high speeds.

- Enhanced wet grip in shallow water depths, contributes to excellent treadwear potential for an ultra-high performance tire.

- Maximized sipe density with optimized center groove offset design and hook shaped tread blocks for enhanced light snow traction, combined with tread block tapering and reinforcement, significantly enhance snow traction capability while maintaining wet and dry handling sport performance capability. M&S rated.

- Excellent carcass strength - even at higher operating temperatures - with a smooth ride.




» SITE CENTERS



» LINKS



» POWERED BY









CURRENT VEHICLE
Audi