BF Goodrich Radial T/A P155/80R-15 83S RWL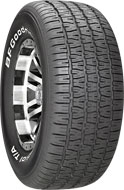 Description



Fits On:
Universal
About this Manufacturer:
BF Goodrich is the oldest and most prestigious American tire manufacturer in existence. With over 115 years in the industry they have a tremendous legacy of performance, innovation, quality and reliability in the automotive industry. They have been involved in some of the most impressive accomplishments of the 20th century including being on the first car ever to cross the United States and being part of Charles Lindberg's record setting Spirit of St. Louis aircraft. In addition to their illustrious past BF Goodrich continues to make headlines and prove their merit with numerous recent motorsport victories including 20 consecutive Baja 1000 wins, 5 Paris Dakar wins, and 17 X Games Super Rally medals. They also hold the distinction of making the first street tire to achieve 1g of lateral acceleration. Based in Greenville, South Carolina they have an impressive distribution facility and are capable of quickly and effectively serving their customer base all over the globe. They are truly unmatched in the world of automotive tires.
About this Product:
BF Goodrich Radial T/A

Treadwear: 400
Traction: A
Temperature: B
Speed Rating: S


About the Radial T/A
Radial T/A


Virtually timeless in its concept, the Radial T/A continues as the most popular design of its kind, year after year. A perfect choice for trucks and muscle cars, this tire's clean black wall or raised white letter styling gives you the versatility of appearance. And new for this year is the g-Wedge™ technology, derived from the most advanced Comp T/A radials, that provides stability and control while delivering a smooth, comfortable ride.

- g-Wedge™ technology incorporates a sidewall stabilizer into the T/A design for improved steering response and lateral stability.

- New tread compounding and variable groove angle geometry yield better wet traction and control while maintaining dry traction and long tread wear.

- M&S rating for genuine all-season traction and performance.

- Polyester/steel construction ensures casing strength, higher stiffness and crisp handling.

- Unique tread block phasing delivers high performance while maintaining quiet ride.




» SITE CENTERS



» LINKS



» POWERED BY









CURRENT VEHICLE
Audi