Battery Tender Ring Terminal Harness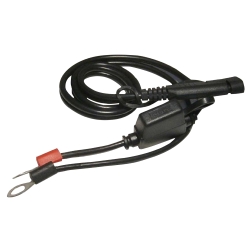 Description



Fits On:
Universal (All Vehicles)
About this Manufacturer:
Based out of Deland, Florida, Battery Tender aims to provide innovative charging products for contented customers. "At Deltran, Performance is a way of life" is their motto, and they stick to their guns when it comes to product development. Their innovative technologies have paved the way for many, and when it comes to maintaining the life of your battery, charging quickly and safely, these guys are amongst the best. Their patented BTP technology automatically maintains battery life in your cars, without you having to do anything but provide a connection!

BMW and Harley-Davidson elected Battery Tender as their official charging device, which says it all!
About this Product:
Features and Benefits:

•Quick disconnect
•Permanent mount for easy access to battery
•18" cord length
•Fused with 7.5amp automotive-type fuse
•Great for hard to access batteries

12v Quick Disconnect Ring Terminal Harness ;allows for ;a permanent mount to the battery with 2-pin quick disconnect plug for use with all 12v Battery Tender chargers. Very convenient for hard to access batteries.

» SITE CENTERS



» LINKS



» POWERED BY









CURRENT VEHICLE
Audi