Acme Automotive 1/4" Ball Swivel ARO Interchange Connector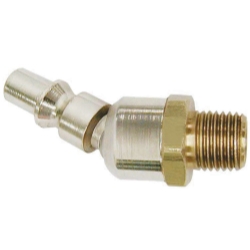 Description



Fits On:
Universal (All Vehicles)
About this Manufacturer:
Acme Automotive, a Brunswick, New Jersey based company, has been developing their products since 1915, and they pride themselves on their first-rate customer service, which will explain products, give details on pricing and availability, and see to it that the product is shipped and delivered in an orderly fashion.

With their consistent drive for delivering high-quality, reliable products coupled with fantastic customer service, Acme Automotive is a stand out.
About this Product:
Features and Benefits:

•Combines the features of ball swivel fittings and connectors, eliminating the need for additional fitting and creating a lightweight tool-to-hose connection

•Connection and nut portion are nickel-plated hardened steel
•Threaded portion of the fitting is all brass
•1/4" connector x 1/4" MPTSwivel ability extends hose life and minimizes user fatigue.

» SITE CENTERS



» LINKS



» POWERED BY









CURRENT VEHICLE
Audi