EXTERIOR
INTERIOR
LIGHTS
PERFORMANCE
SUSPENSION
BRAKES
DRIVETRAIN
AUDIO
WHEELS
GARAGE
Jeep Wrangler Alternators
Shop Jeep Wrangler Alternators by Year
Shop Jeep Wrangler Alternators by Brand


Mean Green


Omix-Ada
See More Brands
Jeep Wrangler Alternators
Shop Jeep Wrangler Alternators by Year
Shop Jeep Wrangler Alternators by Brand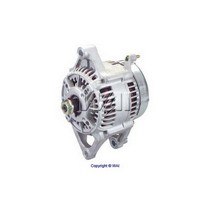 Fits: 1994 Jeep Grand Cherokee SE, 93-94 Jeep Grand Cherokee Laredo, 93-94 Jeep Grand Cherokee Limited
PART# 17225.09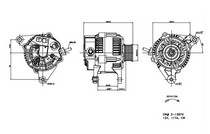 Fits: 01-06 JEEP WRANGLER (4.0L, L6) (TYPE 6S, WITH 117AMPS)
PART# ALT-JEWR01L6-6S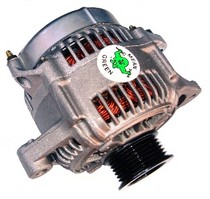 Fits: 1991-1998 Cherokee Ltd.(Xj) All Engines, 1991-1998 Comanche Ltd. (Xj) All Engines, 1991-1998 Jeep Wrangler 2.5L (150), 4.0L (242), 1993-1998 Grand Che ...
PART# MG1334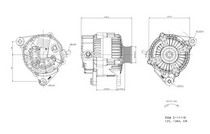 Fits: 04-04 JEEP GRAND CHEROKEE (4.0L, L6) , 04-04 JEEP WRANGLER (NIPPONDENSO UNIT, TYPE 6S)
PART# ALT-JEGR04L6NI-6S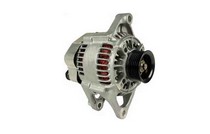 Fits: 99-00 DODGE DAKOTA (2.5L) NIPPONDENSO (TYPE 6S), 99-00 JEEP CHEROKEE (2.5L, 4.0L) , 99-00 JEEP WRANGLER (2.5L, 4.0L, L6)
PART# ALT-JECH99L6NI-6S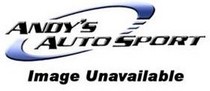 Fits: 2007-2010 Jeep Wrangler 3.8L
PART# MG1388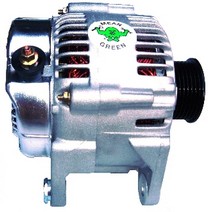 Fits: 2000-2006 Jeep Wrangler 4.0L (242)
PART# MG1380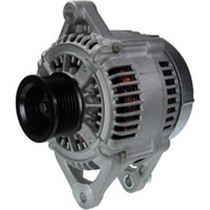 Fits: 91-92 Comanche w/4L Engine; 91-92 Jeep Comanche w/2.5L Engine; 91-99 Jeep Wrangler w/4L Engine; 91-00 Jeep Cherokee w/2.5L Engine; 91-01 Cherokee w/4L ...
PART# 2227HO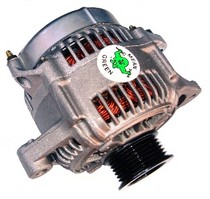 Fits: 1999-2001 Cherokee Ltd.(Xj) 2.5L (150), 4.0L (242), •1999-2001 Jeep Wrangler 2.5L (150), 1999 Jeep Wrangler 4.0L (242)
PART# MG1382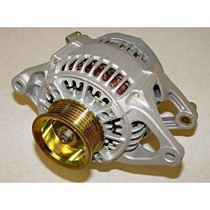 Fits: 1995 Jeep Wrangler Rio Grande, 1996 Jeep Cherokee Classic, 1997 Jeep Wrangler Sahara, 1997 Jeep Wrangler SE, 1997 Jeep Wrangler Sport, 91-92 Jeep Cher ...
PART# 17225.06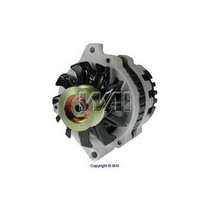 Fits: 1988 Jeep Wrangler S, 87-88 Jeep Cherokee Chief, 87-88 Jeep Wrangler Laredo, 87-88 Jeep Wrangler Sport, 87-89 Jeep Cherokee Laredo, 87-89 Jeep Cheroke ...
PART# 17225.04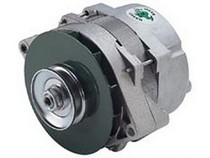 Fits: 1969-1982 Chevrolet Corvette All Engines , 1970-1981 Pontiac Firebird All Engines , 1973-1982 Chevrolet Camaro All Engines, 1975-1978 Jeep Cj/ Yj/ Tj/ ...
PART# MG7127
Most people think that vehicles just run on gas. But the fact is without electricity your ride isn't going anywhere. Electricity delivers the spark to the engine and power to the starter to keep your vehicle driving down the road. In order to maintain your battery charge and keep the electrical system in tip top shape, your alternator needs to be working properly. When the alternator begins to fail, it can cause the battery to drain and will eventually leave you stranded by the side of the road. Here at Andy's we have a good selection of alternators, both OEM replacements and high-capacity units, to ensure that your ride keeps performing at its peak.
In addition to the starter and ignition system, your alternator also has to supply electricity to all of the electronic accessories in your vehicle including lights, heater fans, stereo systems, and GPS navigation. If you have added accessories that draw a lot of power, like a high-output stereo, then your stock charging system might not be able to keep up. An inadequate alternator will cause your battery to go dead much more quickly. In these situations we recommend that you upgrade to a high-output alternator that can handle the power requirements of your vehicle. These high-output units are designed to take on the additional strain of added electrical draw, and will keep you running reliably down the road.
Q: What is an alternator? Why buy one?
A: The job of the alternator is to keep your battery charged up and supply electricity to your vehicle when the engine is running. High-output alternators replace your original unit with an alternator that can produce more power with every rotation of the engine. These performance units are ideal for vehicles equipped with large-draw electrical accessories such as aftermarket lights or powerful stereo systems. A worn out alternator can cause premature battery failure, poor stereo performance or even dim headlights. One of the best upgrades you can make to your ride is to step up to a more potent new alternator. No longer will you have to worry about electrical problems, with a brand new unit you can blast your stereo, blaze your lights and still have confidence that your vehicle will start in the morning.



Enter the Make, Model and Year of Your Vehicle
It helps us give you the best shopping experience! You can skip.